International Connectivity (Submarine Cable Networks)

We own or have access rights to two international submarine networks- the AAE-1 and PLCN and providing customers with bandwidth and connectivity to Myanmar, Cambodia, and countries along the route of AAE-1 and PLCN.



Asia-Africa – Europe-1 (AAE – 1)


As a consortium member of the AAE-1 network and an operator of the AAE-1 landing station in Cambodia, our networks in Myanmar and Cambodia are connected, providing our customers access to 19 other countries in Asia, Africa, the Middle-East and Europe.

We are a member of the international consortium that collectively owns AAE-1, an approximately 25,000 route km international submarine cable running from Southeast Asia to Europe through Egypt, which began operating in 2017. With landing stations in Hong Kong, Vietnam, Cambodia, Myanmar, Malaysia, Singapore, Thailand, India, Pakistan, Oman, the United Arab Emirates, Qatar, Yemen, Djibouti, Saudi Arabia, Egypt, Greece, Italy and France, the AAE-1 network is the longest 100 Gbps submarine cable constructed and connects three regional communications hubs—Singapore, Hong Kong, and France. The AAE-1 cable system also utilizes state-of-the-art 100 Gbps dense wavelength division multiplexing transmission technology.


As the Cambodia landing party within the AAE-1 consortium, we are the sole owner and operator of the AAE-1 landing station in Sihanoukville, Cambodia and therefore provide midstream or downstream communications service providers' direct proprietary access to the AAE-1 network's international bandwidth through Cambodia. These providers may be located in Cambodia, a neighboring country, or any other country whose terrestrial networks indirectly connect to Cambodia. We have connected our terrestrial cables to this landing station and, in line with our provision of customer-neutral networks, our landing station utilizes a neutral-access platform so that customers of ours can connect their networks directly to our landing station and access international bandwidth as well. The landing station includes equipment space, uninterrupted power supply, air conditioner, fire extinguishers, a monitoring system, and other supporting facilities. The total cable landing station space is 888 square meters, which can accommodate more than 200 racks of equipment. We also operate a 24/7 maintenance customer support center on-site. Like other consortium members, we charge landing fees to other members of the consortium who transmit data through our landing station in Cambodia.


We also own approximately 1.7 Tbps of the AAE-1's aggregate bandwidth. As a member of the consortium, we can sell (on an IRU basis) or lease bandwidth from, and to, various points along the AAE-1 network, as well as along the entire network, without being required to share such revenues with other consortium members. By adding modules to certain equipment located in our landing station equipment, we have the ability to increase the landing stations bandwidth.


Other than with respect to expenses related to ongoing maintenance and monitoring of the AAE-1 network, we currently have no additional material investment obligations in respect of the AAE-1 network.
Pacific Light Cable Network (PLCN)


New PLCN submarine cable will be the first trans-pacific cable to directly link Hong Kong and the US- expanding and enhancing our global connectivity.


The PLCN submarine cable, which will be the first trans-pacific cable to directly link Hong Kong and the U.S., is expected to be completed in 2019. It is expected to span approximately 13,000 route km. The submarine cable connects to neutral points-of-presence in Hong Kong and Los Angeles, California, and can easily extend to other data centers on either side of the cable. This capacity provides data service providers a viable channel through which they can direct transmissions to, or receive transmissions between, countries within Emerging Asia and the U.S.


In March 2018, we entered into a twenty-year master supply agreement to purchase bandwidth in PLCN, which we can sell, resell, exchange, lease, sublease, assign, share or otherwise transfer any of such bandwidth to a third party. As of the date of this prospectus, we have purchased 3 Tbps of bandwidth pursuant to the terms of this agreement. We will have a 15-year indefeasible right of use in respect of the bandwidth purchased, and this right will continue for up to five years after the 15-year term (provided we pay the related operational and maintenance fees to the consortium member during this five-year period). Upon the expiration of the supply agreement, it will renew automatically on a monthly basis, until terminated by either party. By contracting to access such bandwidth, we have extended our international reach and will be able to provide our customers access to each of the largest continents upon the completion of the PLCN network in 2019.


Of particular benefit to our international connectivity platform and the manner in which it supports the utilization of our terrestrial networks, the PLCN and AAE-1 networks terminate at the same location in Hong Kong, providing us with the ability to more seamlessly extend our international connectivity access to the U.S. and provide our customers who utilize our terrestrial networks with efficient data transmission routes between the U.S., Asia, the Middle East, Africa and Europe.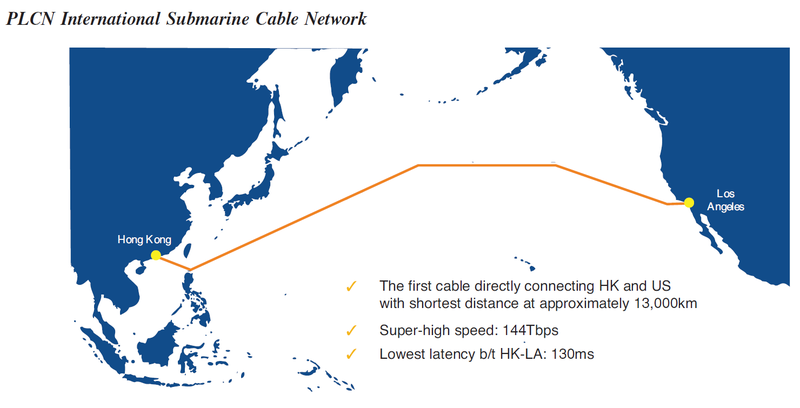 The unique ways we benefit our customers
√ A shared, independent and neutral international connectivity platform to meet customers international traffic needs;
√ "One-stop" integrated solution at an attractive cost with terrestrial network coverage in Emerging Asia; comprehensive cross-border networks connecting most neighboring countries and trans- regional submarine cables for international traffic routing;
√ An independent and integrated network enables customers to extend their nationwide backbone networks to other countries or landing stations and manage all international network equipment with their own network management systems for effectiveness and reliability;
√ A new international access alternative with terrestrial fiber connectivity throughout the region plus newly established alternative submarine cable access provide customers more reliable and cost- effective routes for international traffic;
√ A more feasible route alternative for connectivity further improve redundancy and security of network traffic;