Metro Duct Network

Our metro duct networks connect different local area networks within the same metropolitan area, making the ''last mile'' network access shorter.


Substantially all of the fiber optic cables in our metro duct networks are buried underground in metro ducts, which are primarily located under public land and along major roads in major cities. Such networks provide connectivity in metropolitan areas and extend the connectivity provided by the submarine and/or nationwide backbone networks in Myanmar and Cambodia to and through the urban centers and metropolitan areas of these countries. Our ducts are underground and form the underground passageways that house our underground fiber optic cables in metropolitan areas. Each metro duct network generally consists of four to eight ducts (typically 110 mm in diameter), buried one meter underground, and housing six cables (which are able to consist of 24, 48, 72, 96, or more fiber cores) each. Accordingly, we can insert and house more than 1000 cores into each duct. As a result, we believe we are well-positioned to address the expected need in Myanmar and Cambodia for increased metro duct network densification and interconnectivity to data centers, cellular towers, small cells, government facilities, schools, hospitals and other metropolitan locations with high-bandwidth needs.


In Myanmar
Our metro duct networks are located in each of Myanmar's major cities, comprised of Naypyitaw, the capital cities of each of Myanmar's seven states and seven regions, and the largest four non-capital major cities in Myanmar.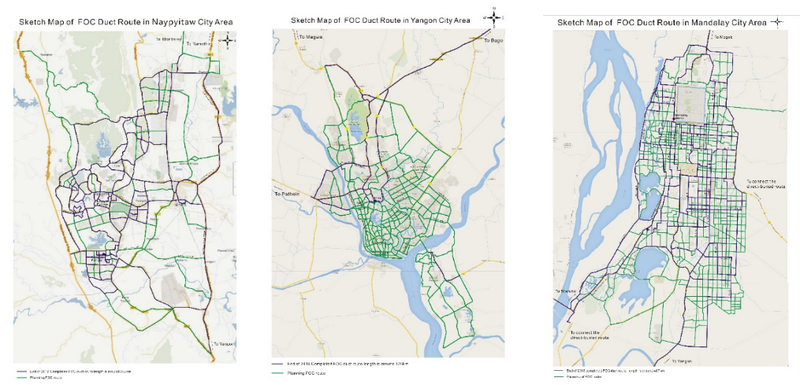 In Cambodia
Our metro duct networks are located throughout Cambodia and cover all major cities in Cambodia. The following maps depict the reach of our metro duct networks in Phnom Penh, the capital of Cambodia, and Siem Reap and Sihanoukville, two other large cities in Cambodia, as of December 31, 2018.