Myanmar
Our Operation & Networks
Our terrestrial network in Myanmar consists of nationwide backbone network (27,480 route km in length) and metro duct network (2,209 route km in length), substantially all of which are housed underground, including ducts and fiber optic cables. Our nationwide backbone networks interconnect urban and rural areas and provide a path for the long-haul exchange of data. Our metro duct networks connect local area networks within the same metropolitan area to each other, thereby making the "last mile" network access shorter for our customers.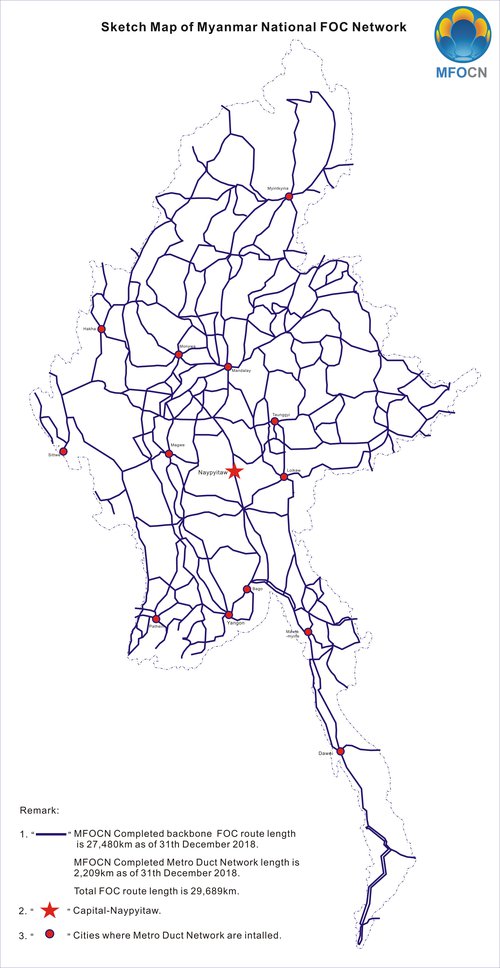 Our National Backbone Network
We constructed our nationwide backbone network in three stages. First, we constructed a top-level national network connecting the core urban nodes of Yangon, Mandalay, Naypyidaw and Mawlamyine. Thereafter, we interconnected the capitals of the seven states and seven regions of the country. Finally, we constructed a network layer to connect the central economic zones, state and regional capitals, and all small cities within each state and region to the nationwide backbone.


Our nationwide backbone network also extends to each of Myanmar's borders, in some cases at multiple points, with each of its five neighboring countries—India, Bangladesh, China, Laos, and Thailand. This enhances our ability to provide our customers access to international connectivity, as midstream, downstream, or other communications service providers in each of these countries have the capacity to directly connect their networks to ours, should they desire to do so. Furthermore, the AAE-1 submarine cable network became operational in 2017, and we are equipped to directly connect our nationwide backbone network to the AAE-1 landing station in Myanmar, on which we have sufficient bandwidth allocated and ready for sale or lease to customers. This ability to connect directly to the AAE-1 network further supports our ability to provide our customers with access to intra-regional and international connectivity from Myanmar and facilitate Myanmar's connection to the digital economy particularly in Emerging Asia.


Our Metro Duct Network
Our metro duct networks are located in each of Myanmar's major cities, comprised of Naypyitaw, the capital cities of each of Myanmar's seven states and seven regions, and the largest four non-capital major cities in Myanmar. The following maps depict the reach of our metro duct networks in Naypyitaw, the capital of Myanmar, and Yangon and Mandalay, the other two largest cities in Myanmar as of December 31, 2018.r
With a nationwide backbone network of 27,480 route km and a metro duct network of 2,209 route in length, we are the only shared fiber network provider of scale in Myanmar.


Country Overview
Myanmar is located in Southeast Asia, borders Bangladesh, China, India, Laos, and Thailand, and is the largest country (in terms of geographical area) in Indochina. According to Frost & Sullivan, Myanmar's population was approximately 53 million as of December 31, 2018, with approximately 64.8% of its population concentrated in rural areas and the remaining approximately 35.2% in its urban areas. Myanmar's nominal GDP has increased steadily since 2013, reaching approximately $71.5 billion in 2018, representing a CAGR (based on changes in the nominal GDP, as denominated in local currency) of approximately 11.0% from 2013 to 2018.

Additionally, according to Frost & Sullivan, Myanmar's nominal GDP is expected to increase to approximately $110 billion by 2023, representing an expected CAGR (based on changes in the nominal GDP, as denominated in local currency) of approximately 11.8% from 2018.


Myanmar has experienced a significant increase in foreign investments since 2011, when its government begun initiating a series of political and economic reforms, including the liberalization of its telecommunications market with the introduction of the Telecom Law in 2013 and the replacement of the Foreign Investment Law with its Investment Law in 2016. Furthermore, Myanmar's large and young population (with a median age of 29 as of December 31, 2018), and its proximity to other dynamic economies within Asia has helped to make it an attractive country for foreign investors.